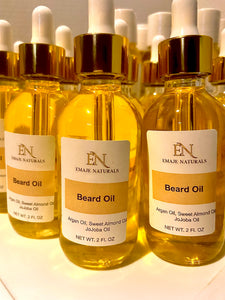 Our Beard Oil is guaranteed to provide your beard the nutrients it deserves. It is a soothing moisturizer that will penetrate your beard and deposit nutrients to your skin. 

Ingredients: 
Argan Oil

Sweet Almond Oil

Jojoba Oil 



It is most effective right after shaving or a haircut. It is non-greasy so the oil will not clog your pores. and easily absorbs into hair and skin. 
This multipurpose Beard Oil nourishes your scalp, hair and the skin under the beard to keep it soft, shiny, and smooth. 
Instructions:
Apply small amount (3-5 drops)from the dropper  into your beard, then massage into your beard or face. Use daily or as needed. 
Then Apply a dime size amount of  Beard Balm  to your beard after you apply your beard oil to thoroughly moisturize your skin, tame your flyaway hairs and stimulate beard growth.